Custom Publishing
DynaMinds Publishing® offers turn-key development of educational materials. This includes comics, graphic novels, promotional premiums, games, video games and books. Give us a call and we can brainstorm ideas.
How Does It Work?
It's easy. First, we visit with a client to determine if we can help. Then, we develop a concept to address the need. If the client likes the concept, we provide a budget and agreement and get to work developing content and graphics. After client approval, we produce the item and deliver.


If you are looking for ideas that promote financial education or you just need a different kind of premium, give us a call or use the "contact us" button.

Save Yourself! Activity Book
Our new financial activity book features famous historical contributors we've modernized. Their money messages offer timely financial wisdom. Comics can be customized with QR codes to drive readers to your corporate website where the answers reside.

Actions Count!
This activity book helps young ones understand that parents are there to help them thrive. It includes a number of family activities. Ask about an activity book for your organization.


Cardboard Piggy Bank
To meet one client's needs, we designed this affordable cardboard piggy bank, along with a classroom lesson on saving. Elementary students love to fold up the bank and decorate it themselves, while learning about saving from the client. Contact us to order your own banks. (Available in bulk only)

Be Money Smart
This comic is an economic outreach tool given out in schools as part of MoneySmart Week®. If your organization is looking for a financial education tool of your own, contact us to learn about this and additional comic book opportunities.

Find Your Money Personality
Ever wonder why kids in the same family treat money so differently? This clever booklet helps you identify money personalities and adjust financial lessons accordingly.


Goldilocks & the Three Consumers
This new graphic novel takes young Goldy through the perils of credit cards, spending and unpaid bills. She learns the wisdom of living within her means. It's a great read for middle school students. (Available in bulk only.)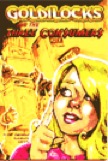 "Save Yourself" Bands
Kids love these
Save Yourself
wrist bands, available in bags of 25. Call for prices.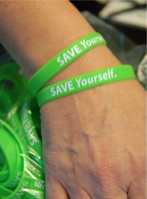 Money 101 Booklet
This colorful card set emphasizes student loans, credit cards and budgeting for high school students. Special orders can be branded.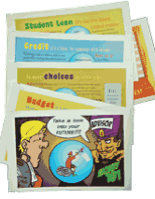 Investor Inspirations Calendar
A perpetual calendar filled with quotable quotes and motivational thoughts on saving and investing. Great for meeting takeaways or corporate rewards. Special orders only.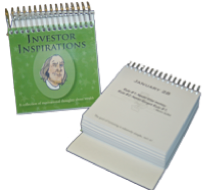 Wants and Needs Game
Here's an easy-to-learn and use card game that teaches players the difference between wants and needs. Available individually and in bulk quantities, suitable for family or classroom play. Call or contact us for quantity pricing.